Support ice safety and knowledge transfer in your community by making Ice Posts with the SIKU app - you could win up to $1000!
Support ice safety and knowledge transfer in your community by making Ice Posts with the SIKU app - you could win up to $1000!
Using the SIKU app, Ice Posts are an easy way to share knowledge. Create posts with photos, tag Inuktut sea ice terminology, and help support knowledge and language transfer! You will also contribute to the SIKU Ice Map and ice safety in your community.
Weekly Draw - Make Good Posts Often!
Every week between April 20th and July 4th, two SIKU ice posts will be selected as winners and their creators will receive $100 gift cards from the Northern Store.
3 Grand Prizes
Three grand prize winners will be selected based on their excellent contributions to Indigenous Knowledge of ice.
⭐ 1st grand prize winner will receive a $1000 Northern gift card
⭐⭐ 2nd grand prize winner will receive a $500 Northern gift card
⭐⭐⭐ 3rd grand prize winner will receive a $250 Northern gift card
Warning
Be careful and never put yourself in danger in order to create a post for the Ice Watch competition. Do not approach dangerous areas. See full Terms and conditions.
---
Rules
To get started, download the SIKU app on your iPhone or Android Device and create a free account or login.
Make a SIKU Ice Post
Agree to Ice Watch Stewardship when prompted
Take at least one ice photo or video
Tag at least one ice type


Include a description of the ice if an accurate tag isn't available

Tag your Inuit community in Canada
Upload your post to SIKU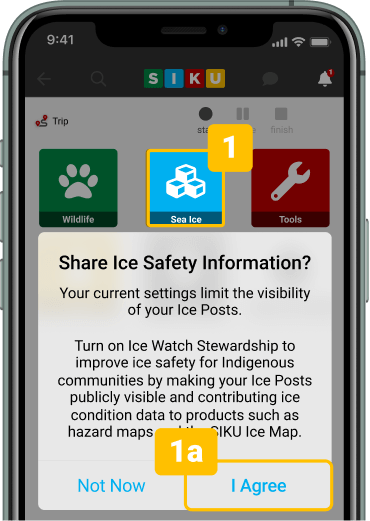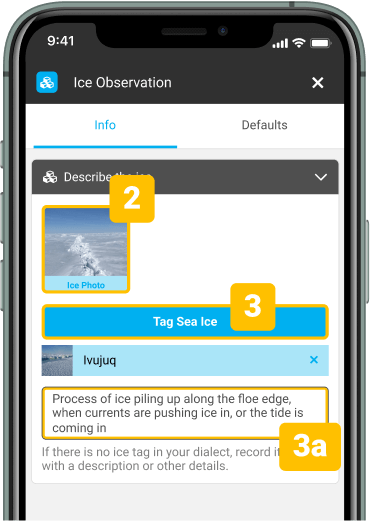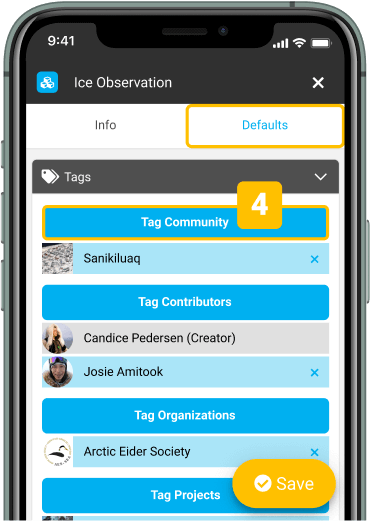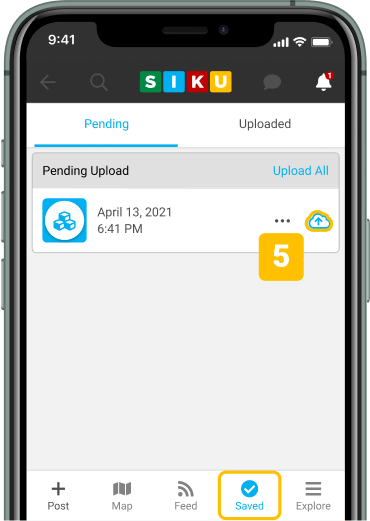 Posts must be created at the location of the ice observation, which is automatically added by the app
Posts made in town do not count
If set up correctly, community tags are automatically added to posts
Posts must be created and uploaded between April 20th and July 4th, 2021
All posts must be unique observations – no duplicates
All posts must be real, relevant, and reliable
No fake posts or using old photos
You must be 19 or older to win
---
SIKU Ice Profiles
Photos, descriptions and terms in multiple Inuktut dialects
Photos and other post information made during the Ice Watch will contribute to existing ice profiles and help add ice types in local Inuktut dialects for profiles not already on SIKU.
---
How to Make a Good Ice Post
I want to win a prize! How can I make a really good post?
Share Inuit Knowledge about ice conditions
Include ice terms in your local dialect
Help share knowledge between generations


eg. make posts with elders or other ice experts

Share ice safety information
Get lots of comments and likes on SIKU
Take interesting photos of ice
Provide detailed information


eg. document changes in ice over time

Tell a good story in the ice notes text box


eg. link current conditions to your knowledge about past ice conditions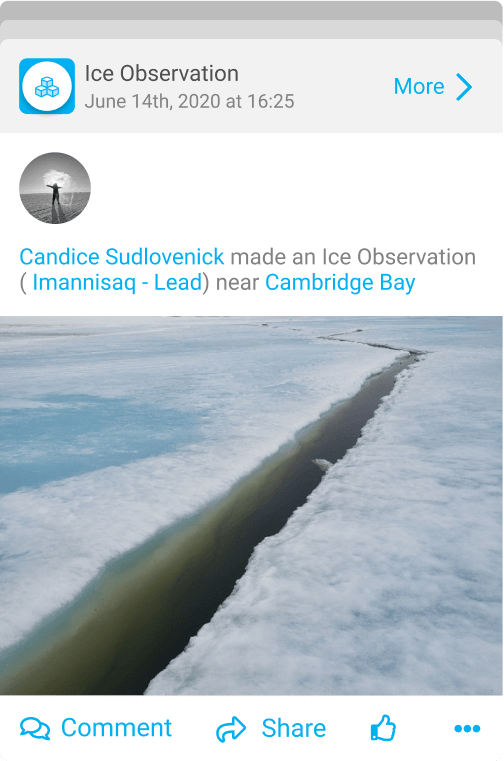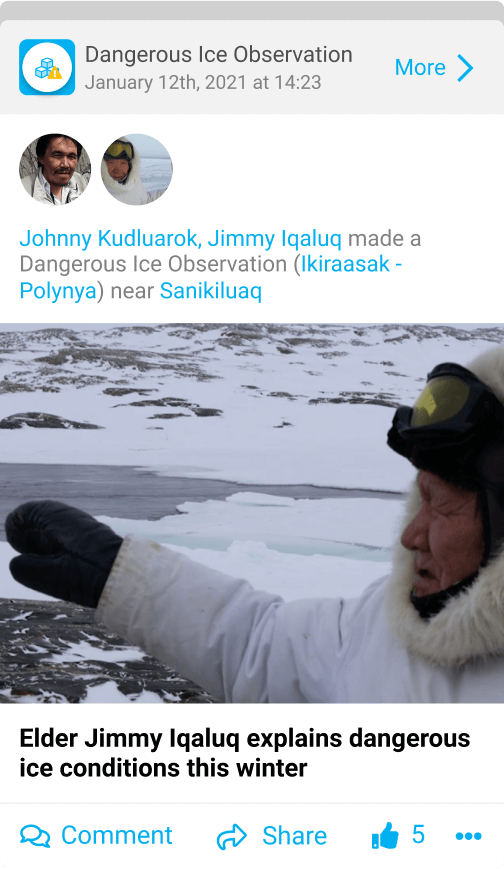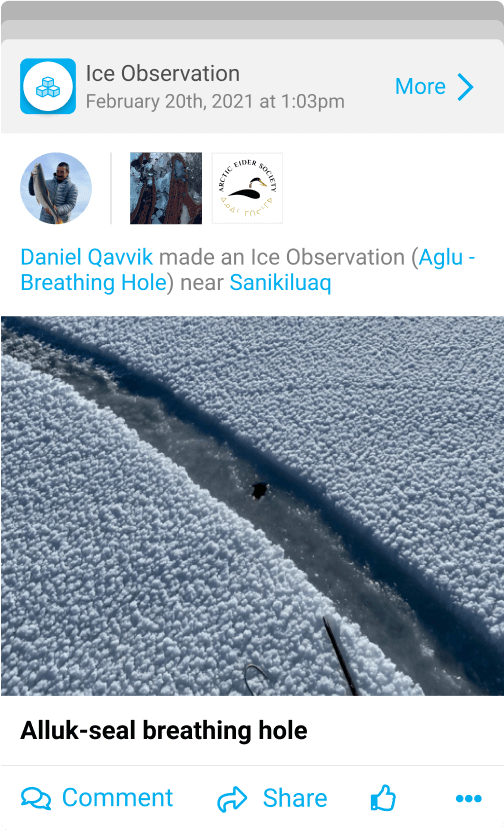 ---
FAQ
Q. I don't have the SIKU app yet. How do I download it, create an account and make posts?
A. Learn how to download the SIKU app, create an account and make an ice post.
Q. How do I know if I won?
A. A SIKU administrator will comment on your post on SIKU to declare you a winner.
Q. What if there is no ice tag for the type of ice I saw?
A. No problem. If there's no tag, you can write the term in your dialect (with a short description) in the "Ice Notes" text box.
Q. When will winners be announced?
A. Weekly winners will be announced each Wednesday. This will cover posts made the previous week (Monday, 12:00 am EST - Sunday, 11:59 PM EST). All posts made Sunday night after midnight will be included in the next week's draw.
Q. Can I enter if I'm not from an Inuit community?
A. All applicants must live in an Inuit community in Canada
Q. What if I have a cool photo of ice from earlier this year or last year?
A. Ice posts should be created on the ice in the place and at the time where you observed the ice. Because of this, pictures and ice information from before the competition period is not eligible. However, video interviews with elders discussing ice conditions including those earlier in the year are eligible.
Q. Who selects the 10 finalists?
A. The jury is composed of ice experts including Inuit partners from the Arctic Eider Society and SmartICE with expertise and knowledge of ice safety and ice conditions.
Q. I need more help, who do I talk to?
A. Please contact us if you have additional questions or to claim your prize.
Q. Can you tell me more about SIKU?
A. SIKU is a social media technology platform and mobile app developed by and for Inuit. It includes weather, tides, satellite imagery, ice safety services like SmartICE, and maps with GPS and traditional place names - all in one place. Inuit can share and comment on observations about dangerous conditions, hunting stories, trip tracks, Inuit knowledge and local Inuktut dialects. SIKU users control their privacy and data usage settings for all posts.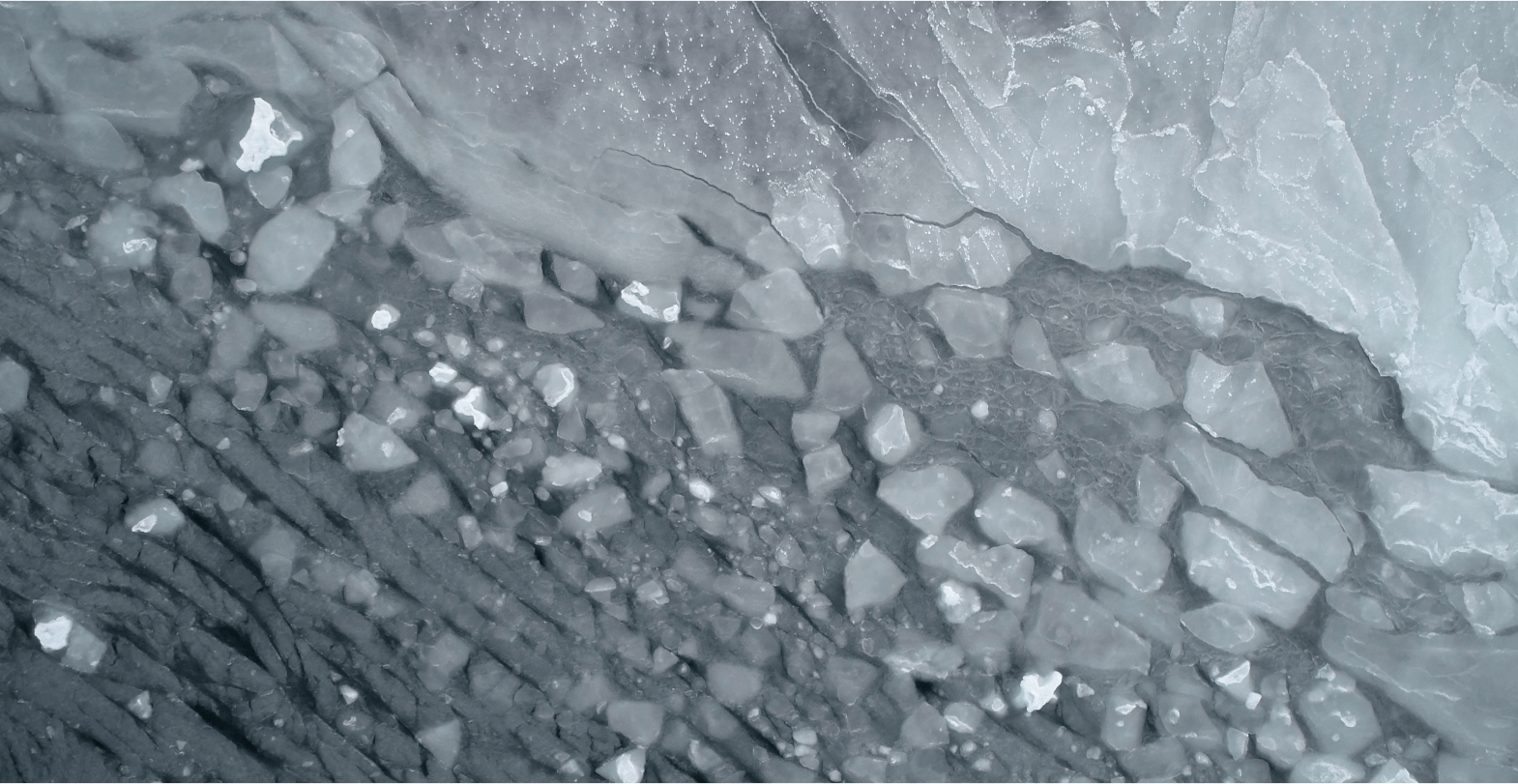 Aerial view of broken up sea ice.
---
SIKU Ice Map
Bringing together the best information to help northern communities access information about ice.
The SIKU Ice Map displays Inuit Knowledge ice posts on top of a base map derived from Canadian Ice Service (CIS) charts and Sentinel 1 satellite radar imagery.
Posts collected as part of the Ice Watch will be used to ground-truth the current results and train a machine learning algorithm to classify sea ice using Inuktut terminology.
Currently available on web - coming soon to mobile apps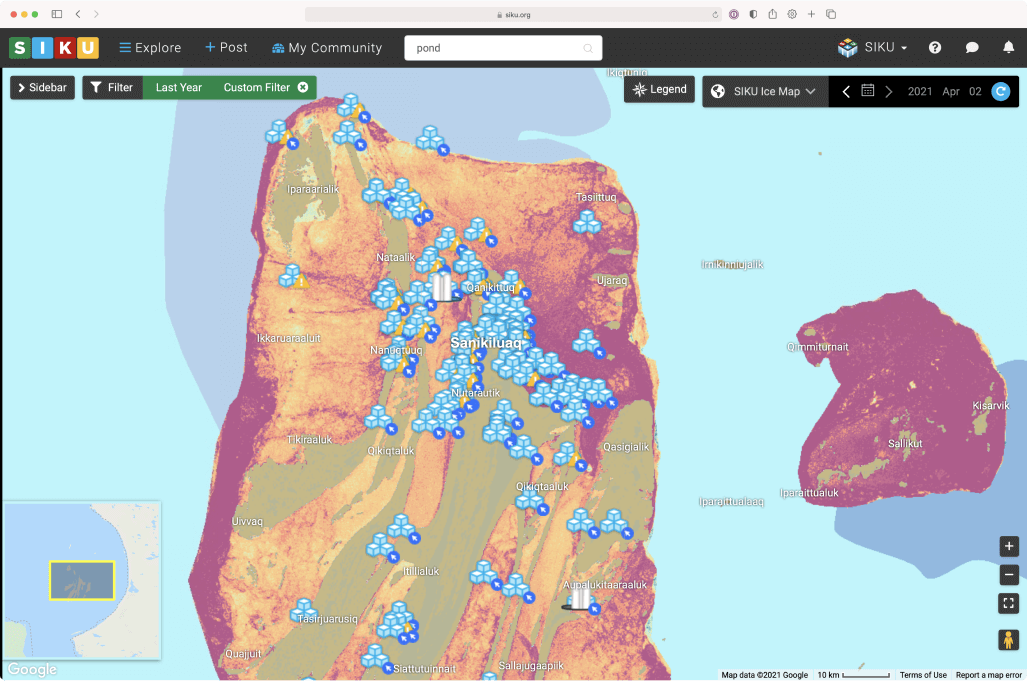 ---

Community-driven SmartQAMUTIK and SmartBUOY remote monitoring technology
SmartICE is a community-oriented organization, offering climate change adaptation tools designed to incorporate sea-ice monitoring data with local Indigenous knowledge of sea ice conditions. Together, SIKU and SmartICE are working to help community members make more informed decisions regarding safe land, water, and sea ice use.
SmartICE selected the SIKU platform as the exclusive provider of their innovative SmartQAMUTIK and SmartBUOY tools. Through SIKU, SmartICE provides more than 20 Indigenous communities with invaluable, data-driven insights into sea-ice thickness and local ice conditions in near real-time. For example, between April 2019 and May 2020 in Nunavut, SmartICE shared 106 SmartQAMUTIK ice surveys and 18 SmartBUOY datasets on SIKU.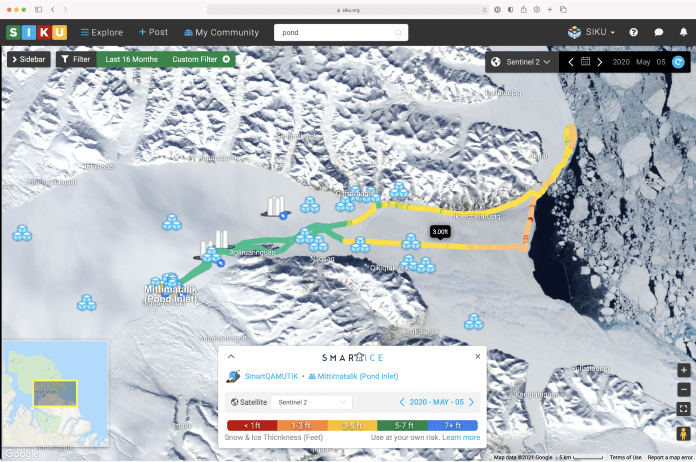 ---
Terms and conditions
Be careful and never put yourself in danger in order to create a post for the Ice Watch competition. Do not approach dangerous areas.
Use SIKU ice services at your own risk. We cannot guarantee the accuracy of information shared by other users or from 3rd party services. Do not use ice post data and other SIKU ice services as a primary way to assess ice safety; they work best when combined with your own experience and knowledge of the ice, and that of experts in your community.
By entering the Ice Watch Competition, you agree to make your SIKU Ice Posts publicly visible and to contribute ice data to products and services, such as the SIKU Ice Map, for the benefit of Indigenous communities.
Winning posts may be shared to promote the Ice Watch in the press and social media, such as on Facebook and Instagram.
Participants may be subject to additional terms and conditions and winners will be determined at the sole discretion of the Arctic Eider Society.
The Arctic Eider Society reserves the right to disqualify any posts or contestants at their sole discretion and without providing a reason or notice. Users agree to the Terms of Use and Privacy Policy of the SIKU platform, including respect for Indigenous knowledge, rights and integrity.
Waiver
By participating in the SIKU + SmartICE 2021 Ice Watch and/or using SIKU and SmartICE products, you acknowledge that you are doing so at your own risk on a volunteer basis, and agree to waive all rights to claims, litigation or other actions related to these platforms, tools and services.
---